ZEISS Vision Care offers a variety of lenses for eyeglasses and contact lenses, designed to meet the diverse vision needs of their customers. Their lenses are made with advanced technologies to provide clear, sharp vision with improved visual acuity and comfort. Some of the lens options available include single vision lenses, progressive lenses, polarized lenses, and photochromic lenses.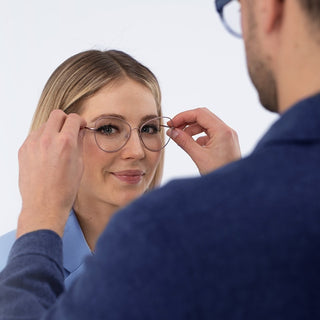 Single Vision Prescription Lenses
Single vision lenses are the simplest type of lenses and are designed to correct either nearsightedness, farsightedness, or astigmatism.
Bifocal Prescription Lenses
Progressive lenses, also known as multifocal lenses, provide a smooth transition between different lens powers, allowing for clear vision at all distances.
Photo-chromic lenses
Photochromic lenses change their tint in response to changing light conditions, providing optimal visual clarity and comfort in a variety of environments.
Polarized Lenses
Polarized lenses reduce glare and enhance visual clarity, making them ideal for outdoor activities.
ZEISS Blue Light Lenses
They are designed to selectively filter out the harmful blue light emitted by digital devices, while still allowing the beneficial blue light to pass through.
In addition to these lens options, ZEISS Vision Care also offers a range of lens coatings, including anti-reflective coatings, scratch-resistant coatings, and UV protection, to further enhance the visual quality and durability of their lenses.